Arla to invest £285 million in global sites and logistics
Arla Foods is to invest £285 million (€335 mllion) on its international sites and logistics in 2017 – an increase of nearly 50 per cent on last year's spending (£192 million/ €227 million.)
The investment is part of its global Strategy 2020 – which involves moving more milk from bulk into branded, own label and foodservice sales.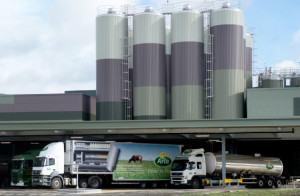 The investment will be spread across its 13 UK production, packing and distribution sites and its logistics operation.
"Last year, I unveiled the most ambitious UK business strategy to date to make Arla a household brand by 2020 and grow its revenue by nearly a third," said UK managing director Tomas Pietrangeli. "This ambition is part of the company's global strategy for growth and will position Arla as the champion of British dairy.
"By continually investing and improving our sites, we can ensure we grow capacity, maintain high quality of our products and ultimately return the best possible price to our farmer owners".
Globally the dairy producer is focusing on production upgrades in its larger markets like Germany, the UK, Denmark and Sweden.