Intermodal terminal for P&O Transmec collaboration
P&O Ferrymasters and Transmec Group, which have been collaborating for 14 years, are now opening a private intermodal terminal in Oradea, Romania. The facility will be run by the partnership's jointly-owned company, Intermodal Vest.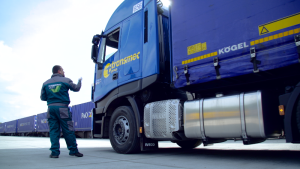 The site will provide a facility for the collaboration's rail-based intermodal links between Western and Eastern Europe.
"Our customers will now benefit from a dedicated and integrated intermodal product covering ferry, rail, road and terminal operations – all of which is focused on enhancing service levels and creating a future network to build upon," said Wim Blomme, P&O Ferrymasters intermodal director. "The investments made to acquire and upgrade the terminal demonstrate our long-term vision and ambition to develop further into the east."
Transmec managing director Danilo Montecchi said: "The Oradea initiative extends a proven partnership with P&O Ferrymasters and takes our service offering to new levels. Customers can now benefit from a dedicated hub that provides a price-competitive and eco-friendly gateway to important growth markets."